New Year Between the Caribbean and the Maya
on Le Champlain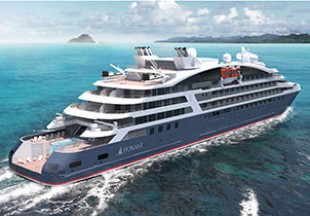 Transfer from Playa del Carmen to Cozumel
PONANT brings you an itinerary in the Caribbean Sea, sailing along the Mexican peninsula of Yucatán to Panama, via Guatemala and Belize. In Cozumel, you will board Le Champlain for a 10-day cruise combining idyllic beaches and Pre-Columbian sites.
First of all, you'll discover Belize, with its Mayan sites lost in tropical jungle and, seen from the sky, its marvellous coral reef, a UNESCO World Heritage Site, which is home to the emblematic Blue Hole, a splendid underwater cenote that stands out like a sapphire set upon the reefs of the turquoise waters of the Caribbean Sea. An extraordinary natural phenomenon that you will have the possibility of admiring from the sky.
The next port of call will be Santo Tomás de Castilla. From there, you will be able to discover the pyramids of Tikal, a major site of the Maya civilisation, or the palaces, pyramids and sanctuaries of the Archaeological Park and Ruins of Quiriguá, listed as a UNESCO World Heritage Site.
Le Champlain will then sail to Costa Rica and Puerto Limón, not far from the island named Tortuguero. Literally "the Land of Turtles", the village and the National Park are key nesting sites for four species of sea turtle, including two critically endangered species.
You will finally discover the clear waters of Panama and the San Blas archipelago, composed of more than 300 islands and cays. The Kuna live among the palm trees and pirogues; this people perpetuates, among other things, the traditional craft of molas, weaved textiles in sparkling colours.
Adventure and Active
Bucket List
Luxury

Why choose Ponant ?
A French crew, expertise, attentive service, fine dining and more. Within a fully 5 star setting, we take you to discover exceptional destinations while offering you a travel experience that is both authentic and high end.
Travelling the French way
As the only cruise company sailing under the French flag, PONANT is an exponent for the French way of life across every sea on the globe. On board, this is translated through ex
...