Wild Landscapes of Kimberley & South-East Asia
on Le Laperouse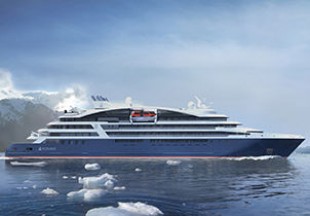 Transfer city centre/pier
Give in to the temptation of an all-new expedition cruise between the wild and grandiose landscapes of the Kimberley region and the sublime islands of East Timor and Indonesia. Set sail aboard Le Lapérouse for an unforgettable 15-day cruise from Broome to Bali.
Your cruise will start in the emblematic Australian region of Kimberley.
As you sail in the Lacepede Islands nature reserve, an important breeding site for green turtles, you'll be able to observe colonies of sea birds: brown boobies, Roseate terns, Australian pelicans, etc. You will also visit Collier Bay, where you will be able to admire the Montgomery Reef, home to vast expanses of lagoons and immense coral reefs.
In one of the most picturesque parts of the Kimberley region, the Hunter River, you will see wild mangrove forests where saltwater crocodiles live along with many species of birds.
After calling at Jar Island, which is home to ancient galleries of rock paintings specific to the region, discover the King George River and the dual King George Falls, among the highest falls in Kimberley and unquestionably one of the highlights of this cruise.
Your last Australian port of call will take you to the northernmost village in Western Australia, Wyndham. Le Lapérouse will then head for East Timor.
Welcome to Jaco Island! Uninhabited and wild, it is part of the Nino Konis Santana National Park and offers a setting of uncanny beauty.
After a port of call in the Timorese capital, Dili, you will sail towards the magnificent Indonesian archipelago. At Kalabahi, in the Alor Islands, you will encounter ethnic groups of the Flores people who have succeeded in preserving their traditional way of life.
Continue your trip with a visit to Komodo national park. This wild and isolated island is home to the famous Komodo dragons.
Your cruise will come to a close in Bali, "the island of the gods" with its captivating charm and grace.
Luxury
Safari, Animals, and Wildlife

Why choose Ponant ?
A French crew, expertise, attentive service, fine dining and more. Within a fully 5 star setting, we take you to discover exceptional destinations while offering you a travel experience that is both authentic and high end.
Travelling the French way
As the only cruise company sailing under the French flag, PONANT is an exponent for the French way of life across every sea on the globe. On board, this is translated through ex
...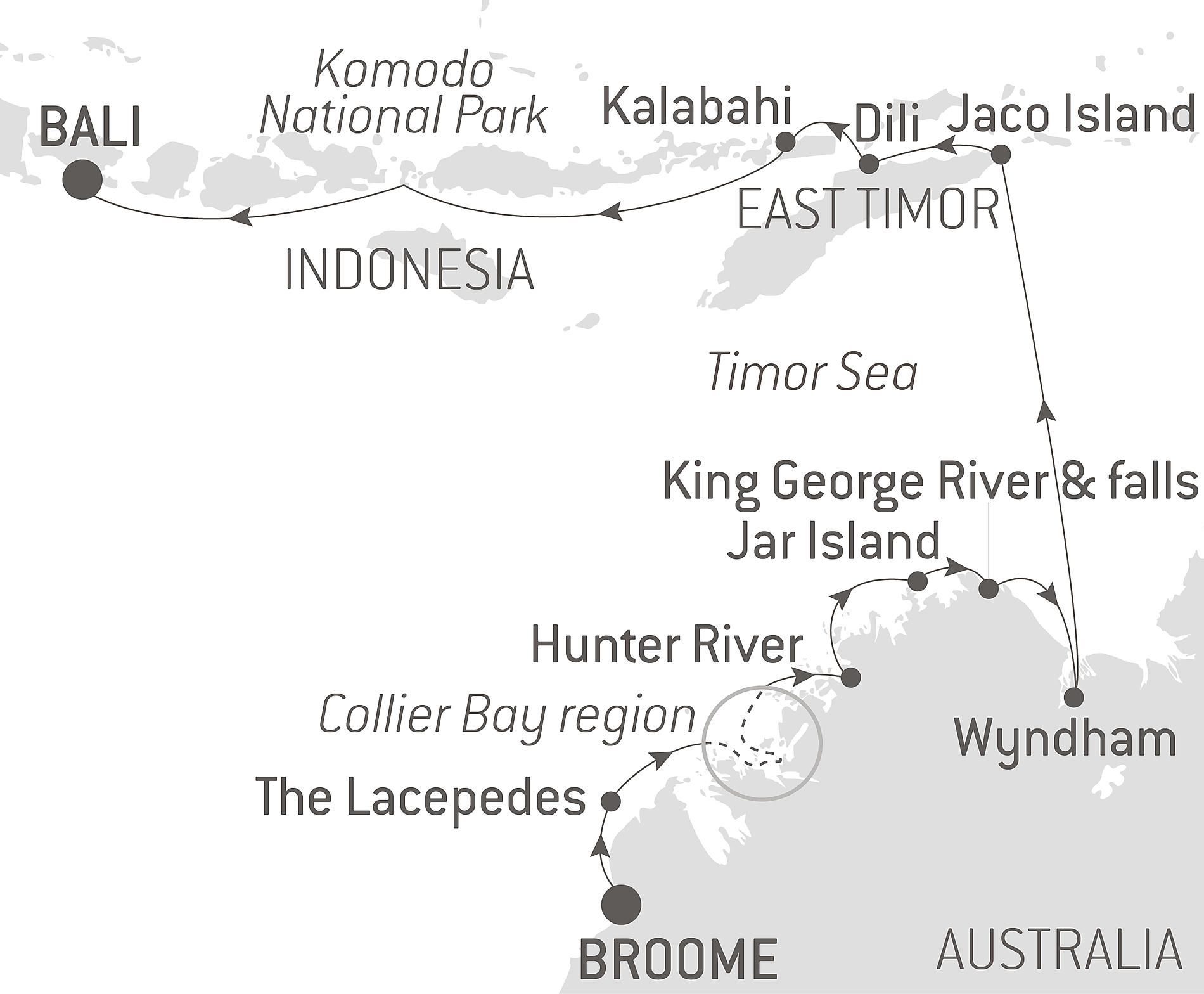 | Day | Port | Arrive | Depart |
| --- | --- | --- | --- |
| 1 | Broome | | 8:00 PM |
| 2 | Lacepede Islands | | |
| 3 | Collier Bay | | |
| 4 | Collier Bay | | |
| 5 | Hunter River | | |
| 6 | Jar Island | | |
| 7 | King George River | | |
| 8 | Wyndham | | |
| 9 | At Sea | | |
| 10 | Baucau | | |
| 11 | Dili | | |
| 12 | Kalabahi, Alor | | |
| 13 | Komodo National Park | | |
| 14 | Komodo National Park | | |
| 15 | Benoa, Bali | 7:00 AM | |